For me it all started while I was in college.   I slogged my first 26.2-mile adventure in December 1982.   Just one month later, three days after my 23rd birthday, I would talk to my Dad for the first time that I can ever remember.   I was 2 years old the last time he saw me.   "I'm a student at Georgia Tech" I told him the first time we talked.   "I'm majoring in Computer Science and I've got a job.   I've been putting myself through school for almost 5 years now," I added.   Initially, I didn't know what to talk about.   "I'm a runner.   I just ran my first marathon last month." Maybe that will impress him I thought.   "Have you run in the Boston Marathon?" he asked.   "No, but I want to.   Maybe someday,"   I told him.   Someday soon, I hoped.   Talking to him the first time was interesting.   The only thing we had in common was genes.   I didn't know what to say about our missing past so I concentrated on today and the future.
Our first visit June 26, 1983
In our next few conversations, the Boston Marathon came up several times.   For a non-runner, he seemed to know quite a bit about it — the length, Patriot's Day, the noon start time, even some of the winner's names.   I listened carefully as he meticulously told me detail after detail about the Boston Marathon.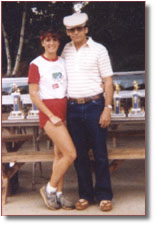 2nd Place Overall Finisher
Ludlow Elks 7.5 Mile Race
June 26, 1983
Through our conversations, a trip to Massachusetts (Agawam — a small town outside Springfield) for our first meeting was planned.   I had received pictures of him and his wife so I knew what they looked like.   He found a road race we could go to so he could see me run.   When I came in second overall, I could see the excitement on his face.   It didn't matter that it was a small race.   The camera clicked away and captured many "Kodak-winning" moments.   For the rest of the weekend we visited his friends and people stopped by his house to meet me.   Each person was told of my "almost win" and to this day, the trophy I won that day is the most gazed upon trophy I own.   I saw a spark of interest in him that weekend but didn't realize until much later the impact it would have on both of us.
We kept in close contact during that time.   He always asked the three basic questions about school, my job and running.   However, my current classes and the "he saids, he dids" of work weren't nearly as interesting as running.   It was something we could discuss and as an active person, it was something he could almost relate to.   I visited him again for Christmas that year.   He bundled me up one day for a run in the freezing cold, and I mean freezing with a -15 degree wind chill.   He went with me one day on the bicycle when I ran.   Finally, one evening after a long day of visiting and shopping, I decided to go for a run.   Out of the blue, I asked "Hey Dad, why don't you go with me?   Just once around the block?"   "Sure", came an almost immediate response.   "I can do that.   Just let me get some sneakers on," he added.   And in sneakers and sweatpants we very slowly slogged around that block where he lives.   "That was okay," he said as we got back.   I continued on, wondering if he really thought it was okay.   The next evening, as I got changed to run, I asked again.   "Hey Dad, you want to go again — Once around the block?"   The immediate response was "Sure!" and within minutes, he was decked out in sneakers and ready to go.   Our slog around the block was uneventful.   I'm not sure we even spoke during it.   I would leave the next day.   After spending the previous four Christmas' alone with nowhere to go and nobody to spend it with, there were many things I wanted to say.   Watching and listening to his interest in my activities and me was new and different and I wanted to thank him.   But, somehow, I didn't feel comfortable saying anything.
The next few months were very interesting.   The phone calls increased as he told me of twice around the block, three times around the block.   Barbara, his wife, spoke of him wearing out the streets on his block.   I sent him issues of running magazines so he could "read up" and buy some running shoes.   I began to realize the impact of that "spark of interest".
During the next several years, there were many changes in my life: graduating from college, moving, getting married, moving again, changing jobs, getting out of shape, getting back in shape, and starting a business.   He never missed asking about any of my interests.   Through it all, we found our common interest to be our running.   He had dropped the block routine and was now wearing out a path alongside Main Street as he trekked up and down it every evening.   He had added road races to his plate of activities.   We were always discussing a new race, distance or event, race times, the food after a race, and of course, t-shirts.   His times continued to improve.   The Boston marathon continued to occur every year without me.   He always read about it in the paper and if I didn't bring it up, he would tell me about it.   I received newspaper clippings in the mail (I guess he thought we didn't have newspapers in Georgia).   However, I always looked forward to them and read every single one.   Every so often, I would ask him if he wanted to run a marathon.   "I don't know.   We'll see," he would say.   With that response, I knew someday he would and I would be able to share that with him.
In 1989, the pressures of a small growing business, lack of motivation, a failed attempt at a marathon due to strep throat, and negative influences from my spouse took its toll.  I quit running.   I never intended to.   It just happened.   Phone calls with Dad became one sided.   I didn't have any times to report or races to tell about.   We discussed my business venture and his work but something was missing.   That common bond that sparked us both, for me, was gone.
Running became difficult to even discuss during this time.   I missed it terribly.   I maintained my streak of Atlanta Peachtrees 10k's.   Around the 4th of July of every year, I would tell him of my adventure down Peachtree, running it many years with little or no training.   It would get harder and harder with each passing year.   Every year I would try to maintain my running afterward.   However, each year I would give in to the stresses of work and spousal discouragement.
Dad continued to improve and do very well.   He called one day in 1991 to tell me he had been accepted into the New York City Marathon.   I hadn't been running at all.   It would be too late to even try to get in.   Anyway, my adventure through the five boroughs of NYC in 1985 turned out to be one of the worst running experiences of my life and I vowed never to do it again.   In fact, I had not run a marathon since then.   I knew I would run again, someday.   However, I would miss his first marathon.   I'll catch the next one, I thought.
After completing his first marathon and settling back to racing, his times improved dramatically again.   He called one day and announced he had run a 10K in just over 40 minutes.   "Wow, that's better than mine," I told him.   I was really impressed.   I was excited for him and sad for me at the same time.   I didn't have any running accomplishments of my own to share with him.   Meanwhile, they still held the Boston Marathon that next year without me.  
In November 1992, he ran in the Rhode Island Marathon barely missing his qualifying time for Boston by only seconds.   "Are you going to run another marathon before the end of the year and try to qualify for Boston? " I asked.   "No.   Maybe next year," he replied.   I knew he would qualify in his next marathon attempt.   Would he end up running Boston before I did?
I started thinking about running a lot more in early 1993.   I don't think there was any one specific catalyst at that point.   Rick, a running friend of mine, had a serious "heart to heart" with me one day — "All work and no play makes Valerie a dull girl" he had said.   Maybe it was "Wish Upon a Star" — an article I clipped out of a running publication on goals and the Boston Marathon that made me say "next year".   Whatever it was, on April 19th, 1993 I set my watch to go off at noon.   As I sat in my office at noon, the people in my work world were totally oblivious to my dreams or even what that day meant to me.   I would return to running I decided.   It would give me the strength I needed to make the changes in my life I needed to make.   I ran that day barely making the .4 mile loop around the pond behind my house.   Little did I know that in six days, my perspective on life would change forever.
It was a Saturday night just after dark — April 24th.   Bill, my husband, had a massive heart attack that involved an entire team of EMT's and several doctors before the night was over.   He would be revived several times throughout the evening.   Eventually, a miracle drug would turn the situation from a worse case scenario into a positive prognosis.   How fragile life can be I thought.   Because of his second chance at life, I hoped Bill would do some of things he talked about doing for years.   I knew I would.   If only he could just accept my running as something I enjoyed and wanted to pursue.   More passionately than ever, I would tackle my dreams.   Dad and I talked several times during this period.   "I'm going to do some of the things I've always wanted to do," I told him.   "I'm starting back running and this time I'm really going to stick with it no matter what."
On May 11th, I would start slogging around the pond three days a week.   After all, Peachtree was coming up again — my 13th Peachtree.   There was a benefit race on June 5th.   I would try to make it through the 5K distance.   Could I get to 3 miles in three weeks?   I would try.   I knew Teri, my neighbor, would run with me and help me.
June 5th came quickly.   I would finish the run in the slowest time I had ever run a 5K race.   I won't write it down I decided.   I called Dad to tell him of my accomplishment.   He was glad I was running again.   I better set a goal I decided.   Certainly, I wanted to finish the annual Peachtree 10k again this year as in the past 12 years.   However, a goal beyond that is what I needed.   It would have to be Boston.   No more putting it off.   After all, Dad will probably qualify this year.   I would also try to qualify.   I would also set a longer-range goal that day – something that would take two to three years to achieve. I'll run lots of marathons, I thought. Perhaps an ultramarathon. I'll break 40 minutes for the 10K. As I pulled out my old running logs and reviewed them, I thought about some of my previous goals. Yes, everything I had ever dreamed about, I would do it. A plan would be necessary.   For now, Boston would be long range enough.
The return was slow.   I finished Peachtree only slightly better than the previous couple of years.   I called Dad.   "Yep, I finished another Peachtree," I told him.   He ran a race that day too.   How exciting!   We were back to talking about running again.
The return to running was more exciting than ever.   I appreciated my running more because I realized how important it was to me.   I returned to the local club's Saturday morning fun runs, began to meet a group on Sundays and made lots of new friends.   Meanwhile, Dad heard about everyone and everything.   He made plans to run the Rhode Island Marathon again.   This year, he had an entire group of people he had never met wishing him well.   I tried to determine which marathon I could run to try to qualify.   It would have to be after the first of the year.   I needed at least six months of running behind me before I ran a marathon, I thought.   Meanwhile, on November 7th, Dad ran in the Rhode Island Marathon in a time of 3:24:36, easily qualifying him for the Boston Marathon.   Wow!   He did it!   I was excited for him.   Now, it was my turn.
With the Atlanta Marathon only a couple of weeks away, Scott, my new training partner, would convince me to give it a try.   After all, it was right here in Atlanta.   It wouldn't involve a trip anywhere and he would run it with me to pace me.   I couldn't pass it up but I didn't want to decide until the week before.   I was very apprehensive about it.   After all, it had been nine years since my last marathon.   "OK," I told him.   "I'll give it a shot."   On Thanksgiving Day, a conservative approach would be the order for the day I decided.   When Scott asked what I wanted to run that morning, "How about 8 minute miles?" was my reply.   3 hours 30 minutes and 30 seconds after the gun sounded, we would cross the finish line in what would be the best marathon experience I had ever had — a "first marathon" experience.   I easily qualified with almost ten minutes to spare.   However, that time was not nearly as impressive as the seconds it took me to call Dad upon returning home.   "I qualified!" I practically shouted to him over the phone.   For almost an hour, he patiently listened to every detail.   Finally, the Boston Marathon would be held and we would both be there.
Al, Val and Scott running intervals at the track – training for the Boston Marathon 1994
During his Christmas-time visit, we made our travel plans for Boston.   After the first of the year, our phone calls increased as we discussed our training runs and recent events. I was making some major changes in my life that were not very pleasant. Bill had recovered from his heart attack. It had been a year but he had not made any changes in his attitude. Going out for a simple run became a major obstacle. I decided I wouldn't live my life like this. In mid-March, I moved out and filed for a divorce. After years of hiding this desire to be fit, I could finally run or workout whenever I wanted.
Running was fun again. Dad heard it all. It took only seconds to call him after returning home from a local 10K.   "Hey Dad, I broke 40 minutes in the 10K!" I announced without even a Hello.   "Holy smokes!" he said.   It wasn't what he said but how he said it that I will never forget.   "Are you going to run the marathon with me?" he asked.   "I'll see how I feel that day" I told him.
April 18th came very quickly as my training increased to never before seen levels.   My new running friends — Scott and Al along with myself overwhelmed each other with "running" enthusiasm.   The Boston Marathon was affectionately called "Christmas in April".   The pre-race hype was everything I expected and then some.   I had been working too many hours and was concerned about being too tired.   Should I run with Dad or should I try to run a good time?   We would all start together — Dad, Scott, Al and myself.   I decided if I saw Dad at any point after a couple of miles, I wouldn't pass him, I would stay with him and we would run it together.
As the gun sounded, Scott, Al, Dad and myself said our last good lucks.   Dad took off.   He was ahead of me the last time I saw him.   The cheering of the crowd along the way was awesome.   However, within the first five miles I was beginning to have problems with my toes — my shoes were too small.   Where was Dad?   Had I passed him?   I was comfortable with my pace but by 16 miles my toes were really hurting.   I still had not seen him.   I must have passed him and not noticed.   It was during the 18th mile way up ahead on a hill that I first caught a glimpse of him.   As I caught up to him at the 19-mile mark, I leaned over and said "Hey Dad.   How ya doin'?"   A surprised look came over his face.   This was perfect I thought.   I would finish with him.   It was meant to be.
Valerie and her Dad @ 1994 Boston Marathon
He had gone out too fast and his pace was beginning to slow down.   We slogged along together barely talking.   The slower pace was a relief.   However, my toes were going to ache at any pace.   Dad was depleted I could tell.   Into the 25th mile, he stopped to walk.   "You go on ahead." he said to me.   "No way Dad, I'm going to finish with you." I told him.   We clocked an 11:16 mile.   Yes it was a marathon horror story, but I would stick with him and we would finish together.   Even though my toes were aching, I was beginning to feel semi-recovered by this point and I concentrated my efforts on encouraging him.   As he started to run again I put my hand in the small of his back and pushed him up a slight incline.   He was brave to be so depleted and run a 9-minute mile that last mile.   "You're my hero, Dad!" I told him as we rounded the corner toward the finish line.   Yes, we finished hand in hand together.   As we walked through the finish chutes, he was still wobbly, he announced to everyone he saw "This is my daughter.   We finished together."   I was real proud of him.   Probably like the pride a parent feels for their child's accomplishments.
Valerie after finishing the 1994 Boston Marathon. Finally – a dream come true!
As we got to the end of the chute, he turned around, gave me a kiss and a big long hug and said "I love you. I couldn't have done this without you."   As we hugged in the midst of a sea of people I realized he was right.   Perhaps not for the reason he was thinking.   He had guts and determination and I knew he would finish the full 26.2 miles that day. He didn't need me there to help him finish.   My contribution came on a cold Christmas-time evening in 1983 when I asked him if he wanted to go once around the block with me.   Perhaps it was his pride in me for winning my first marathon just one week later that kept him circling around that block every night.   Or maybe he was looking for something we could share and build memories together.   "I love you too, Dad," came my response as a lump formed in my throat.   I realized then that I will never look at the years that we didn't have together, but instead be grateful for what we do have as father and daughter.
For me, there will be other races for PR's; there will be other marathons;   there will be other running goals to accomplish.   It took us 11 years to get to the Boston Marathon.   To run in and finish our first Boston Marathon together as father and daughter is certainly one of the highlights of my life.   After all, isn't that what the Boston Marathon is all about — the expectations, the goal setting, the experiences and the stories?   For me this was a dream come true.
....................
Since 1994, Valerie has become a member of the Atlanta Track Club Women's Competitive Team and in the 2000 Boston Marathon, the womens masters team placed 1st in the Masters Women's Team division. Valerie's Dad has a name – Marvin Howard. Marvin was ranked in the top 15 male marathoners in the 50-59 age group for the New England area in 1995.
Valerie missed running in the Boston Marathon in 1997 and 2001 due to a injury. After heart surgery in 2001, Marvin has put marathoning on hold for the time being. He watched and cheered as Valerie completed her 50th marathon and 8th Boston marathon in 2003. The Boston Marathon is still a highlight for both of them every year.

1998


2000

Valerie and her Dad (Marvin) after various Boston Marathons